How Cyber-Criminals Target Wealthy Clients By: Ben Lee - February 08, 2019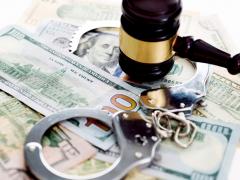 It is increasingly common for cyber-criminals to take over every aspect of a high-net-worth client's digital life in one attack, according to Barron's. This gives the attacker more time to monetize their access — and creates new problems for financial advisors, the publication writes.
Cyber-Attacks Are Changing, and Advisors Must Be Prepared
An attacker can access login information using malware, such as a keystroke logger, on a wealthy client's computer, Rachel Wilson, head of cybersecurity at Morgan Stanley Wealth Management, tells Barron's. This can include information for financial accounts, as well as phones and email accounts, which means once the attack begins the client can't be reached, Wilson tells the publication. Traditional authentication is no longer enough, and fingerprints or similar biometrics should now be used as well, Barron's writes.
Despite celebrities and ultra-wealthy individuals being particularly vulnerable, many still use weak passwords, according to the publication. Cyber-criminals will hold ransom social media accounts — the core of many celebrities' personas — and individuals will often capitulate, Wilson tells Barron's. This is the worst thing to do and will likely lead to further demands for payments, she tells the publication.
Some HNW clients will ask their financial advisor to help broker a ransom deal, which allows the advisor to intervene, Wilson tells Barron's. If a client is in this situation, they should contact the social media company to change their password and then implement stronger authentication, according to Morgan Stanley, the publication writes.
Another potential weakness for HNW clients is a family office, especially single-family offices, since they have the funds of a small or medium enterprise but sometimes lack in digital security, according to a Citi Private Bank report, Barron's writes. To counter this, some family offices have outsourced IT and, more recently, taken on IT staff for information security, according to Citi, the publication writes.
Article Source: Thewealthadvisor